Grammarly is an all-in-one AI-based online writing assistant tool that reviews spelling, grammar mistakes, punctuation, clarity, engagement, and check plagiarism. Check 61% Discount on Grammarly Premium.
Grammarly started in 2009 and is trusted by millions of users to make their online writing clear and effective. Here we share Grammarly Review 2021 based on features, pricing, performance, and my last 6-month personal experience.
Grammarly is a freemium productivity tool to make their online writing clear and effective. This tool automatically checks every aspect of your writing including grammar, spelling, and other common writing issues like Sophisticated grammar, Contextual spelling, synonyms, etc.
In this article, we'll take a deep look into the inner workings of Grammarly Premium, examine the features Grammarly offers, performance, look into the pricing, and finish up by giving you our opinion on whether or not it's worth the investment.
Grammarly Premium Review 2021
Grammarly helps you eliminate writing errors and find the perfect words to express yourself. You'll get suggestions from Grammarly as you write on Gmail, Twitter, Linked In, and nearly everywhere else you find yourself writing.
Grammarly is a must-have tool for every blogger, content writer. Their free version app is worth using, it comes with a basic grammar checker and writing tone detections.
But the Grammarly premium version packs all the wonderful premium features like advanced-checked for errors in punctuation, plagiarism checker, readability, and sentence structure, etc.
They also have browsers extension, Android, iOS applications, and premium add ons to check grammar anywhere to write something. In this article, you will not only discover Grammarly's review but you will also find out features, discount coupons, pros, and cons.
Bottom line: Don't want to read all the details? Let us give it to you straight. In our Grammarly review, we found them to be reliable, fast, and affordable. You'll never regret using Grammarly on your devices.
Now let's dive into our detailed complete detailed Grammarly premium review so that you can decide for yourself, is worth it or not.
Grammarly Features: Everything you need to know
The Free Grammarly version comes with some limited basic features like Grammar, Spelling, and Punctuation checking. Grammarly Premium plans come with over 400 types of Grammar checks and advanced features.
Below is a quick list of Grammarly features:
Grammar & spelling Check
Punctuation Check
Fluency check
Clarity detection
Conciseness check
Clarity-focused sentence rewrites
Writing Formatting check
Readers Engagement detection
Compelling vocabulary
Lively sentence variety
Automatic writing Tone detection
Formality level check
Inclusive language detection
Plagiarism detection
Works where you do
Browser extensions available
MS Word and MS Outlook add-in
Google Docs support
Native apps for Windows and macOS
Keyboard for iOS and Android
Basic and advanced suggestions
Writing style guide
Brand tones
Analytics dashboard
Priority email support
And Grammarly's business plan comes with everything that has the premium plans with a custom style guide, dedicated admin panel, and priority customer support.
If you student, writer, or blogger then the premium plan is the best option for you. It checks for advanced grammatical errors, Tone detector, Mobile synonyms, Clarity, and readability detector, provides instant vocabulary enhancement suggestions, detects plagiarism, custom Grammarly Editor, and provides citation suggestions.
Grammarly Pricing 2021: Which Plan is Best For You?
Grammarly analyzes a piece of text you've written on any online text editor and checks for any grammatical errors. The free Grammarly version covers all the basics like grammar checker, punctuation checker, and spelling checker. While the premium version takes it a step further, offering stylistic and best-writing-practice suggestions.
If you're wondering what you get with Grammarly Premium, it provides detailed information about each of your grammar mistakes in the pop-up box with additional writing insights and an ability to set writing goals. It also finds and fixes advanced grammatical mistakes than the free version.
Currently, Grammarly offers only three types of plans Free, Premium, and Business. And you can choose monthly, quarterly, and annual subscription plans for the premium version. I Personally using Grammarly Premium annual plan to save more money.
I recommend you go with the Annual premium plan, to save more money on Grammarly. If you want to manage 3-149 users on a single Grammarly account then start with the business plans.
Here are the Grammarly premium plan pricing options:
Grammarly Premium monthly subscription costs $29.95 per month.
Grammarly Premium quarterly subscription costs 19.98 per month, billed as one payment of $59.95.
Annual Grammarly Premium subscription costs $11.66 per month, billed as one payment of $139.95.
Start with Grammarly premium plan & save up to 60%.
Here are the Grammarly Business plan pricing options:
Grammarly offers monthly and annual subscriptions for their business plans. Grammarly monthly business subscription costs $25/member/month. here are complete pricing details:
3 to 9 members – $12.50/member per month,
10 to 49 members – $12.08/member per month,
50 to 149 members – $11.67/member per month.
Start with a Grammarly business plan & save up to 60%.
Right Now, Grammarly does not offer lifetime plans, free trials, gift subscriptions, or one-time plans. They accept payment in different methods including credit cards, PayPal, and debit cards.
Grammarly Free vs Premium 2021
You already know, Core Grammarly application is completely free with limited features. But purchasing the premium version will get access to their All premium modules like advanced grammar checker, plagiarism detector, tone adjustment, additional advance suggestions with customer support.
Along with that, Grammarly premium also allows you to install the addons for Microsoft Office so you can use it in MS Word and Outlook. Let's check the complete Grammarly free vs Premium version comparison.
| Grammarly Features | Free version | Premium Version |
| --- | --- | --- |
| Grammar Checking | ✔️ | ✔️ |
| Spelling Checking | ✔️ | ✔️ |
| Punctuation Checking | ✔️ | ✔️ |
| Fluency detection | ❌ | ✔️ |
| Conciseness detection | ✔️ | ✔️ |
| Readability detection | ❌ | ✔️ |
| Compelling vocabulary | ❌ | ✔️ |
| Lively sentence variety | ❌ | ✔️ |
| Tone detection | ✔️ | ✔️ |
| Confident language detect | ❌ | ✔️ |
| Politeness checking | ❌ | ✔️ |
| Formality level detector | ❌ | ✔️ |
| Inclusive language | ❌ | ✔️ |
| Plagiarism detection | ❌ | ✔️ |
| Special Discount | Activate Now | Activate Now |
In other words, the free version of Grammarly is ideal for writers and bloggers with a low amount of budget for writing tools. I personally use the Grammarly premium version to fix the grammatical mistakes on my websites.
Read more about Grammarly free vs Premium version in detail. So you can decide which one you should use.
Grammarly Premium Pros & Cons
Nothing is perfect in this world. Grammarly has its own advantages and disadvantages. Let's check each pro & cons of using Grammarly premium before you signup.
Advantages of using Grammarly:
Grammarly comes with a tremendous number of premium features. Here are a few important features you need to know about Grammarly.
Real-time grammar correcting features comes with all plans.
No AI tool can give 100% accurate results, But Grammarly offers your Highly accurate results.
Better Vocabulary enhancement suggestions are also available for effective writing.
Friendly customer support with Grammarly premium.
World's best Plagiarism checker available with Grammarly premium.
Flexible Integration with all browsers, mobile applications, MS office 365, etc.
Grammarly checks for passive sentences, over-used words, and suggests alternatives.
Easy to use interface for beginners.
Auto-save mode features available when type on Grammarly editor.
Grammarly supports different dialects, like American English, British English, Australian English.
Disadvantages of using Grammarly:
The Free Grammarly version comes with very basic features.
Grammarly premium has no refund policy. I'm using Grammarly premium for a very long time, After using Grammarly I don't think you need a refund.
Grammarly's monthly price is higher than the annual pricing. If you want to save more money then, you need to buy Grammarly for a year.
How to get Grammarly Free Trial?
Grammarly only offers 7 days of free trials on the Business plan. If you run a business & you need a Grammarly premium account for 3-150 users then you can try Grammarly Business free trial for 7 days.
Unfortunately, right now Grammarly premium doesn't have any type of free trial for individual users. However, you can use their Grammarly-free version for a lifetime that includes only essential Grammarly checking functionality.
If you need a Grammarly premium account at a meager price, then you can use our exclusive discount coupon to get up to 61% off instantly to every new user. They also offer monthly payments for all users via credit card and PayPal.
Grammarly Student Discount 2021
Grammarly offers several discounts from time to time. All you have to click on the below Grammarly discount below to activate special discount automatically for students, teachers, writers, etc.
Right now, Grammarly doesn't offer any type of student discount. However, if you are a student then you can use our exclusive Grammarly discount coupon to save money on Grammarly premium.
Below is a step-by-step guide to getting a Grammarly discount for students, teachers, Bloggers, etc. All you have to do is follow the below step-by-step guide to redeem the maximum discount.
How to Claim Grammarly Premium Discount ?
Our exclusive Grammarly Coupon code gets you a discount of up to 61% on all premium plans. All you have to do is follow the instructions below to properly redeem the Grammarly coupon code. That way, you'll get the maximum discount on Grammarly.
To automatically apply our exclusive Grammarly discount, be sure to click the link from this page to open the Grammarly website.
First Step: Open Grammarly.com (premium Discount applied automatically).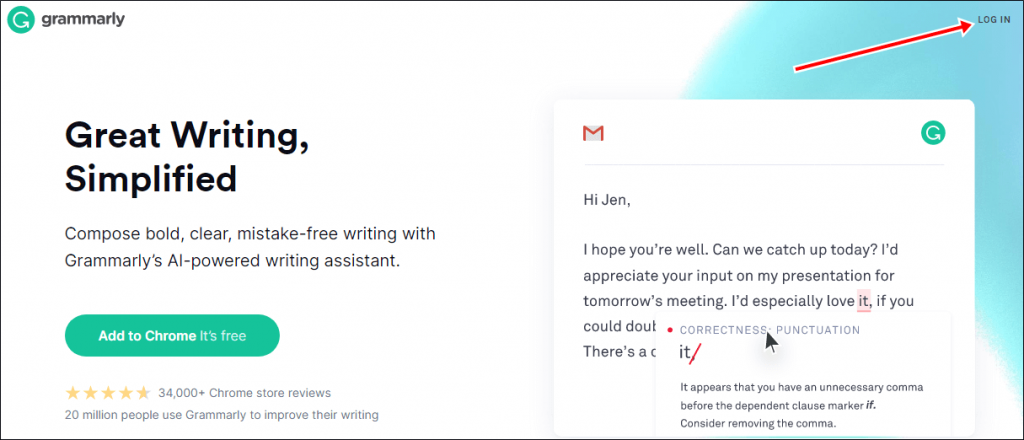 Second Step: Login to your Grammarly account. If you don't have an account then create your account (It takes only 2 minutes).
Third Step: After login into your account, on Grammarly Dashboard click on the "Premium" options to continue.
Fourth Step: On the next page, click on the "Subscription" option and then the "Go Premium" option.
Fifth step: Now, you have to select your Grammarly premium plan. I recommend you to go with the Annual plan to save a 61% discount instantly. Then click on the "select" button to continue.
Last Step: That's all. Go ahead and complete your purchase. You can pay with your credit card or PayPal.
We hope you found our Grammarly Discount. If you face any problem of getting a discount then, let me know asap.
Here are some most asked questions about Grammarly tools.
If you have any other questions related to Grammarly let me know in the comment section. Otherwise, you can contact their customer support team to know more about Grammarly.
What is Grammarly?
Grammarly is a freemium productivity tool, that helps you eliminate writing errors and find the perfect words to express yourself.
How does Grammarly work?
Grammarly AI-based writing app makes sure everything you type is Grammatically correct and easy to read. Their algorithms flag potential issues in the text and show suggestions to improve grammar, spelling, punctuation, etc.
How much are Grammarly premium costs?
Grammarly Premium annual subscription costs $11.66 per month (61% off), quarterly subscription costs 19.98 per month, and monthly subscription costs $29.95 per month.
How to use Grammarly in MS word?
If you want to use Grammarly on MS Word then, you need to download Grammarly add-in for Microsoft Office. It allows you to check Grammarly while you're writing on MS Word.
How to use Grammarly on Google docs?
To use Grammarly on Google docs, you need to install Grammarly extension on your browser. Then, open Google docs and click on the Grammarly icon at the top-right corner to activate Grammarly into Google Docs.
How to get Grammarly premium for free?
Grammarly doesn't offer a free trial on its premium version. However, you try Grammarly free version to check basic grammar mistakes. Try Grammarly for free.
How to cancel a Grammarly subscription?
First of all Log in to your Grammarly premium account, then open the account tab from your dashboard. In this section, select the Subscription tab and click on the Cancel Subscription link at the bottom of the page. After that, click Yes, continue, select a reason for cancellation, and click on the cancel subscription button. Note: Grammarly premium subscriptions are non-refundable.
Conclusion on Grammarly Review 2021
After reading this Grammarly review, you might be wondering, Is Grammarly premium worth the hype?
The is the answer is: YES, Grammarly premium worth every single penny. If you are not sure about Grammarly premium, then use their free version to check their basic grammar & spelling checking tool.
It makes writing easier by providing mostly accurate and useful grammatical & spelling corrections that we might have overlooked. They are remarkably good at offering quick, helpful, and knowledgeable support to their customers.
Overall, Grammarly is a must-have tool for writers, Bloggers, & digital marketers that you should consider using. If you are impressed with Grammarly's premium features, just give it a try, I'm sure you love it.
Grammarly Discount Coupon Code 2021
Our users get an exclusive 61% discount on the Grammarly premium plans. All you have to do is click on this link to purchase and the Grammarly discount will be applied automatically.
I hope you will find this Grammarly discount Coupon 2021 worthy.
I hope you loved this Grammarly premium review. If you love our effort, you kindly share it with your friends to improve their article quality.
If you already using Grammarly premium share your personal experience in the comment section. I'd be glad to reply!
Find these discounts & review details useful? Share it with your friends!
Thank you. Have a lovely day.